Skip to product information
Stretch Sofa Cover
$77.99
Shipping Policy:
APPROXIMATE SHIPPING TIMES​(does not include weekends/public holidays):a) USA ~ 7 to 16 business days (tracking system available)b) Rest of the world ~ 7 to 21 business days (tracking system available varies)Delayed delivery
PROCESSING TIME VS SHIPPING TIMEPlease note that processing time (4-6 business days) is different from shipping time andshould be added to the total delivery time. Orders generally take 4-6 business days to befully processed (checked, packed, forwarded to logistics and sent forth to the post office).After your order has been processed, our shipping company for dispatch will then pick upyour package. An email with your online tracking information will be available on our website.
Features:
SLIP-RESISTANT & Won't follow: The highly-elastic couch covers for the sofa is flexible, soft, and slip-resistant for long-term comfort. No straps needed to keep this sofa cover in a fixed position, as it stays firmly in a position without moving or shifting.
Very friendly for kids and pets:Protect your beloved and expensive sofa from damage.And keep the sofa tidy all the time.
Tidy & Anti-stain:Keep your couch clean, and free of stains. It's perfect for homes with small children and pets, or anyone searching for an affordable solution to a clean, new look or furniture protection.
Premium Fabric: Made of Synthetic Fabric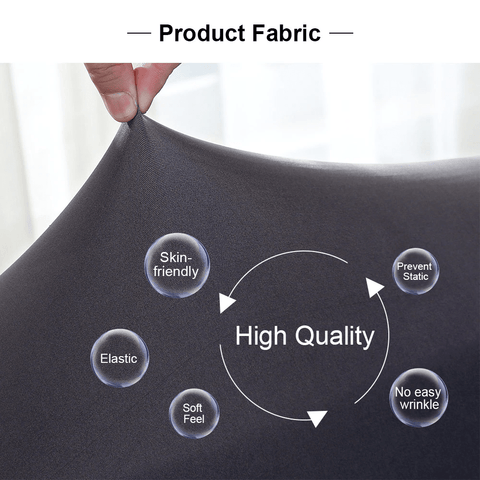 LIGHTWEIGHT AND EASY CARE: Easy to set up; machine wash cold,molecular fiber material, easy to clean without leaving traces.

DURABLE AND AFFORDABLE: it prides itself on affordable elegance that enhances the decoration of your home while maintaining quality standards. The spandex sofa cover offers a combination of top materials and the latest design without sacrificing comfort and durability.
HOW TO INSTALL
How to choose the right sofa cover?
*Note: All sofa covers are flexible and can adapt to different length changes. Compare the chart and choose a sofa cover according to your sofa style.In order to better cover our beloved sofa,we recommend buying a larger size than the sofa size.
Single sofa A to A = 35-55 inches (90cm to 140cm), please order one "Single / 1 -Seater (35-55 INCH)".
Double sofa A to A = 57-72 inches (145cm-185cm), please order one "Loveseats / 2 -Seater (57-73 INCH)".
Three-seat sofa A to A = 74-90 inches (190cm-230cm), please order one "3 -Seater (75-91 INCH)".
Four-seater sofa A to A = 92-118 inches (235cm to 300cm), please order one "4 -Seater (93-118 INCH)".
*Real picture reference
🌈For L-Shape Couch / Sectional Couch / U-Shape Couch:
From A to A, B to B & C to C :
Example 1: L-shaped couch   
A to A = 57-73 inches (145cm-185cm) 
B to B = 93-118 inches (235cm to 300cm)
Please order TWO "2-Seater Cover" ( Total 2 pieces )
Example 2 :Sectional couch
A to A = 57-73 inches (145cm-185cm)
B to B = 93-118 inches (235cm to 300cm)
C to C = 75-91 inches (190cm-230cm)
Please order  ONE "2-Seater Cover" + ONE "4-Seater Cover" + ONE "3-Seater Cover" ( Total 3 pcs )
Note: Please make sure you order more than 1 piece for your sectional sofa (Please according to size chart).
---
🔥🔥2022 Lucky Event🎁👉 randomly selected 500 lucky customers to get six pillowcases corresponding to the color of the sofa cover for free. Thank you for your support ❤️❤️
PACKAGE INCLUDE:
Stretchable Sofa Covers
Installation instruction
1
2
3
4
5
6
7
8
9
10
red
sky blue
light coffee
light purple
royal blue
dark green
rose red
army green
gray
 
11
12
13
14
15
16
17
18
19
20
Candy orange
beige
white
Candy purple
purple
Candy green
wine red
Bean red
Glamour yellow
camel
 
 
 
 
 
 
21
22
23
24
25
navy blue
black
silver gray
coffee
Grape
 
Note:
There will be a little color difference between the picture and the real object, which belongs to the normal color difference range.
No Compromises In Quality

100% Satisfaction Guarantee

Free Shipping For Life
Try Completely Risk-free
HASSLE-FREE RETURNS AND REFUNDS
We mean it! If you are unhappy in any way within the first 30 days, we will sort out the return label for you and issue a full refund, hassle-free, no questions asked.
WHAT CUSTOMERS LIKE YOU ARE SAYING
460+ HAPPY CUSTOMERS
Fits Perfectly in my hand
Great value for money The product works as described and the cat is cool with it! Take into considerations the pins are very delicate and may bend easily.
Easy to Use
"Excellent order very functional my cat loves."

"Good, quality very good price does its job."
"I like the brush very much, the wool comes off well when the button is pressed, the cat likes it very much."


FREQUENTLY ASKED QUESTIONS
We ship all around the world... Please provide here you own shipping information, including times, prices, options etc.
This depends on whether it is an International or a Domestic order. All orders within the U.S. are considered domestic orders and they are shipped and delivered within 2-5 business days. Please see International Orders for more details.
We accept PayPal, Visa, MasterCard, Discover, and American Express but feel free to contact us for other payment options.
We will send tracking information to the e-mail address associated with your order once the item has shipped. If you have not received your tracking information and it has been over 2 business day, please contact us at (012) 123 - 4567
When ordering as a gift for someone, be sure to enter in your email address to receive all summary information but enter in the recipient's name and shipping information. We will be sure to keep all prices and receipts out of the package.
If for any reason you are not completely satisfied with your purchase, within 30 days of placing your order, we will refund you for your purchase with no questions asked.